Peaky Blinders on Netflix
HB and I were getting down on some Peaky Blinders before her due date.  I was just setting up an iPad HB got at her company xmas party when I found out season two is out.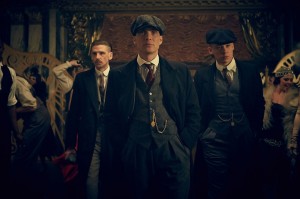 I don't recall how I stumbled upon the Peaky Blinders, but its a very enjoyable show.  Its based on a real life gang of WWI vets in Birmingham England.  The gang's name comes from the razors sewn into the brim's of their caps, to be used as weapons in a pinch, or to make a statement.  If perhaps you're sitting around at night watching a baby, its a good way to pass the time.  Since I hadn't heard anything about the show, and just kind of came across it, I thought I'd share it with y'all here.
This entry was posted in Uncategorized by rsiv with
Warning: count(): Parameter must be an array or an object that implements Countable in /home/bonviv6/public_html/wp-includes/class-wp-comment-query.php on line 405