Lots of catch up, and stuff randos won't be interested in…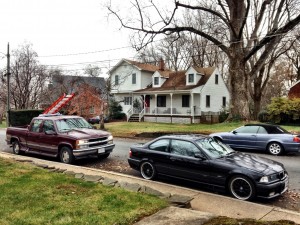 FJ came over, and we loaded up the 30 footer to hang FJ's wreath.  I'm not a huge fan of heights, but we got it done.
Since I have the new bebe, I got out of putting up the little trees that line the driveway this year.  Its always a cold tedious task, so I was happy to avoid it, but it makes the house look like a holiday car commercial, and I'm glad Swaggy-we and FJ got them up.  Later that evening, I had a surprise for FJ.  HB really wanted a picture of EF and Santa, but the doc said germy malls and unvaccinated bebes don't mix.  So I went on amazon prime, and in two days, Santa popped down the chimney.
Thursday we had a little cocktail party.  I went to Dominion Wine and Beer to get some provisions.
It was nice to see everybody, and a welcome change of pace from the dipers and fussiness.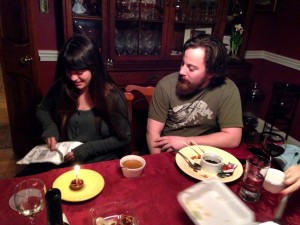 Chelsea was going to be in Scotland for her bday, so we celebrated early.  Then she and Ryan headed to Scotland, while FJ and Swaggy-we rolled to West By God Virginia, so HB and I were new parents that were house and dog sitting.  Yay.
We made the most of it with Taco Bombas.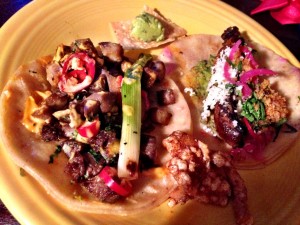 Then daddy enjoyed some much needed hot tub and sauna time.
The next day I interrupted band practice to let the dogs out.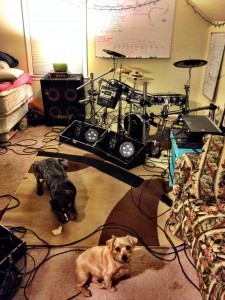 Then Otto von Bismarck (Prince of Bismarck, Duke of Lauenburg) helped me pick out a Riesling to pair with some chinese.
After lunch, HB wrote some thank you notes, and then we headed out to walk to the dogs, and take EF on her first walk.
After a light stroll, I rewarded myself with a stogie and some sauce and enjoyed watching the clouds roll by.  I rounded out the evening with a nice schvitz.
I gchatted with the buggins and Ry, who were having a great time in bonny Scotland.
I enjoyed a salteña.  FJ finally got an xmas tree for his office, which was decorated with all my favorite ornaments.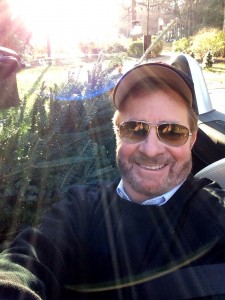 LeBeef and FJ had their xmas party, and EF attended virtually via her baby monitor.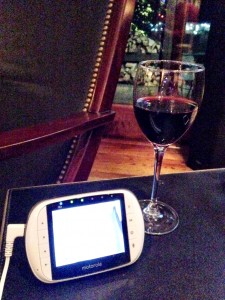 On Chelsea's bday, I picked up some flowers from her for my moms.
Then I enjoyed some of the truffles that Christine brought over.  They were quite delicious.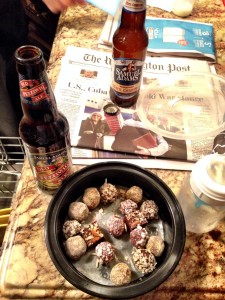 Most festive holiday pano-selfie ever?

We tried out the coravin on some port, and HB enjoyed some rare tuna steak for the first time in nine months.
This entry was posted in Brown Sauce, Cigars, FCC, Food by rsiv with