New Year's Eve's Day, New Year's Eve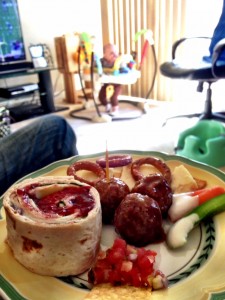 Since so many of us have bebe's now, HW and Li planned a New Year's Eve's Day party.  There was a great spread, a delicious punch, plenty of beer, and plenty of bebe's.
VA did her best Bobby Light impression by grabbing her chair and doing the booty-do.
I was pretty crazy to see how fast the bebe's grow.  All the girls are four months apart.
After we had our fill of football, dranks, and snacks, we headed back home for an evening in.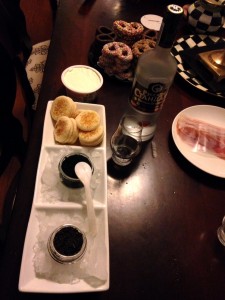 We just planned on having the capt'n over, but with ML's lady in Indiana, he joined us as well.  Fortunately, we had a pretty decent spread.
We sabered some champs, and let the good times roll.
We promoted the Capt'n to Rear Admiral (Lower Half) for gallantry in champagne consumption.  HB backfilled the Captain's position.
Riding high on his promotion (and tiny bubbles) RDML Thom danced recklessly with EF.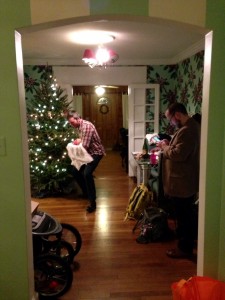 EF got ready for her first New Year.
And ML sent a sext to CT (mid-salsa).  RDML Thom went below deck for a little R&R (not pictured).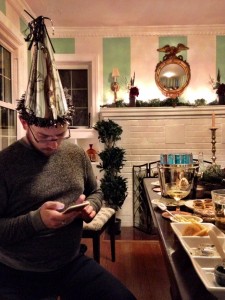 We went through some champs and vodka, but ended up with plenty leftover.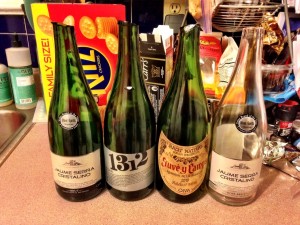 The next morning, I was first in line at Taco Bell's drivethru to make sure everyone had a filling start to 2015.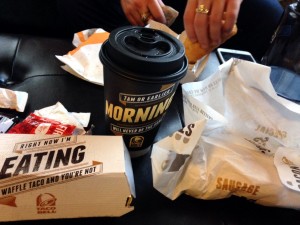 Chad.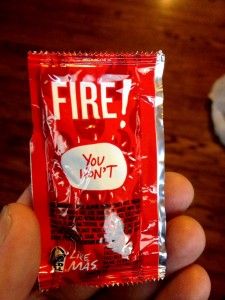 Thom brought about twenty board games and insisted we play one.  I'll admit, I did enjoy some spy alley.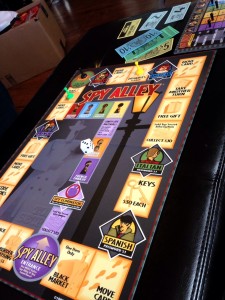 Last year, HB and I had a pretty epic new year.  This year we just planned to watch the ball drop on TV (#WYMGTB?) and have a little bubbly.  Thanks to HW, Li, Thom, and ML for making this year special.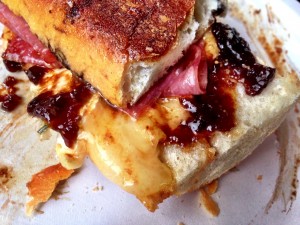 My resolution last year was to start a journal (this blog).  I haven't thought of a resolution for this year yet, but I'll definitely keep BVVA going.
This entry was posted in Food by rsiv with
Warning: count(): Parameter must be an array or an object that implements Countable in /home/bonviv6/public_html/wp-includes/class-wp-comment-query.php on line 405