Salteñas, Review of Luzmila's Cuisine in Falls Church City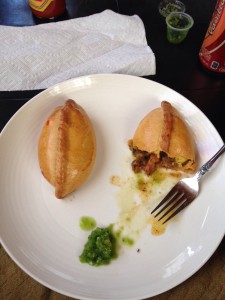 If you live in Falls Church City and have not been to Luzmila's Cuisine, you are doing yourself a disservice.  The food here is excellence, very affordable, and comes in huge portions.  There are lots of interesting options on the menu.  When we dine in, we usually try something different.  However, when we want some take out on a lazy weekend, we go for the saltenas.  The Falls Church News Press has this to say about Luzmila's saltenas:
"At $2 a piece, the saltenas on the appetizer menu should be the start of every meal at this establishment. Pieces of meat (chicken or beef), vegetables, olives, and hard boiled egg are mixed in gravy and served inside a hard, sweet pastry shell, served up with a small spoon to help hungry patrons fight past the outer shell. Most diners, however, are happy to pick the fist-sized treats and dig in, accepting the inevitable mess as the price to pay for enjoying the delicious turnovers more quickly."
If you thought about going previously, but the hours of operation didn't work for you, check again.  I don't recollect how recently it was, but Luzmilas changed their hours so that they're now open after 5pm pretty often (it used to be more of a lunch and weekend spot).  If you dine in, you may get a waiter/waitress doesn't speak english very well, but they're always friendly and helpful.  There is really no excuse not to stop by and give Luzmila's a try.
This entry was posted in FCC, Food, Uncategorized by rsiv with