Make your own ginger cocktail bar, blenheim ginger ale, Rush
My dad needed to borrow my truck, so I went over to my parents place to exchange cars and have some dinner.  I brought the movie All is Lost, and thought we might have some rum drinks, and enjoy the movie.  I juiced some limes, put out some ginger syrup and ginger ale.  I bought the red (magenta) and gold capped blenheim ginger ale locally at red white and bleu.  The red cap version is pretty spicy.  I think it really makes a cocktail if you're really into the flavor of ginger.  Its not subtle, but you don't always want subtle ingredients.    For my drink, I poured about 2 oz or so of mount gay eclipse over rocks, added some lime juice, topped with blenheim red, mixed it, and then poured some el dorado 15 over a lime slice to top it.
The topper looked best with the black seal rum, but tasted best with the el dorado.  The ladies mixed the topper in, so looks probably mattered more in their case.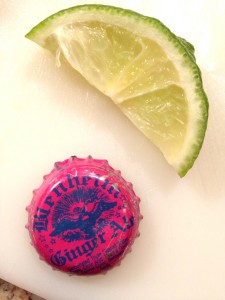 The blenheim red is just spectacular.  Very spicy bite on the end, great ginger flavor.  I highly recommend you check it out.  A friend of mine recommended it to me at the cheese shoppe in Williamsburg, and I've been a fan ever since.
I still had chicken and waffles on the brain, and in the freezer, so I put threw a quick dinner together on short notice.  Nobody was feeling my movie pick, so we ordered Rush on demand.  I thought it was very well done.  If you're a race fan, check it out.
This entry was posted in Brown Sauce, FCC, Food by rsiv with