Valentine's Day at Gypsy Soul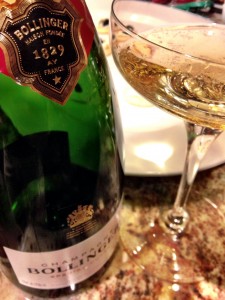 Y'all are probably getting tired of how much I post about Gypsy Soul.  So you'll just have to go and drink the kool-aid, or deal.  We started off V-Day by making some canapes for my parents to thank them for watching EF while we were out (first time we've been out just the two of us since EF was born), and FJ popped some delicious bubbly.
EF was very interested in the tiny bubbles, but LeBeef wouldn't let her have a sip.
While show the exterior of the restaurant you might ask?  Lets call it the before shot.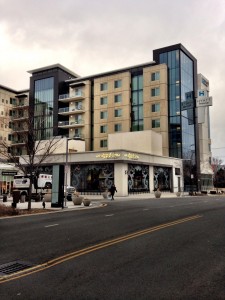 We started with some cocktails.  Mine had a bourbon base, and HB went with one with Bajan rum.
I had a hankering for some fried chicken skins, but we were tempted by the special Vday menu.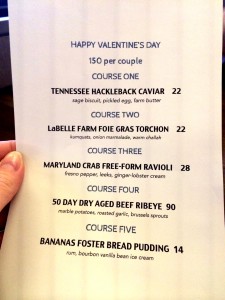 I'll have to try to make my own sage biscuits.  They were delicious.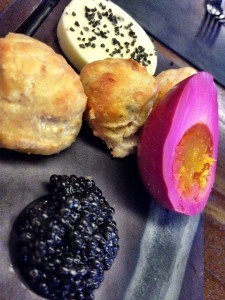 Fois gras is always a good decision.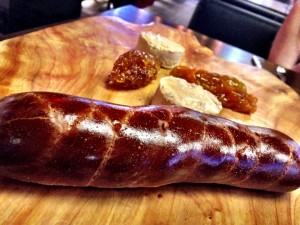 The ravioli was a rich and decadent as one can imagine.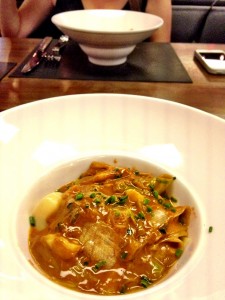 With the dry aged ribeye, we had a carmenere which was the most delicious fruit-forward iteration of the varietal that I've ever had (and I've been to Chile).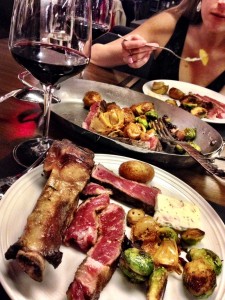 The steak was tender, rare, and amazing.  It was a very generous portion; the picture below is all leftovers we took home.
Despite being full, I enjoyed way too much bananas foster bread pudding.  You could really taste the rum and bourbon.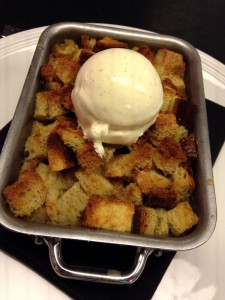 At the end of the meal, we walked out into a blizzard.  As soon as we opened the first of the double doors, the snow blew in and the chill cut through us.
I have a great video of HB on a mechanical horse that she'd kill me if I posted.  But I'm definitely not above showing you in person, so ask next time y'all see me.
The parking senors got snowed over, which reminded me of my 14 hour drive from Montreal to VA in a blizzard last year.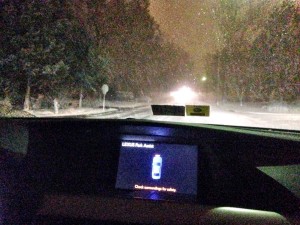 Gypsy Soul really delivered again, and the wife and I had a great Valentine's Day.
This entry was posted in Embarrassingly effeminate, FCC, Food by rsiv with