The Deli at Nourish Market
We used to go to Kennedy's natural foods all the time for a sandwich.  When they changed ownership, I'm not sure why, but it fell off our radar.  I remembered it for some reason the other day, and we got some takeout.  Its now called Nourish Market.
Let me first say that I don't know much about health food.  I eat fried food, southern food, mcdonalds, etc.  So while sprouted multigrain bread does sound better than normal bread, I'm not sure by how much or even why.
I used to be a big fan of their tuna salad sandwich, so I got that.  The wife got a black bean burger (vegetarian).  Neither of us are even slightly vegetarian, but we are open to good food.  Both sandwiches were very good.  I'd get both again.  They taste great, and I like to think I'm eating at least slightly healthier and more responsibly/locally than usual.
Now for the fun part.  I saw on their website that they have local kombucha on tap, and more options than anywhere around.  I'd never had kombucha, but there is not much I've not heard of, given the strange predilections of my health conscious friends that are into things like paleo, perching, barefoot running, and other things I'm sure I've incorrectly identified and will hear about later.  Back to the kombucha.  We got an original, and a fruit flavored one.  The original was as described on wikipedia:  slightly effervescent tea, with a mild vinegar flavor.  The fruit one tasted like pure carbonated vinegar.  I kept an open mind, and drank a whole one, but I'm not sure I would again.  Lets just say it was an experience.
If you like health food, or just want a really good sandwich, check out Nourish Market.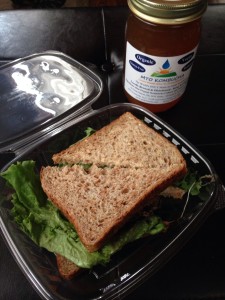 This entry was posted in Embarrassingly effeminate, FCC, Food, Uncategorized by rsiv with