Catch up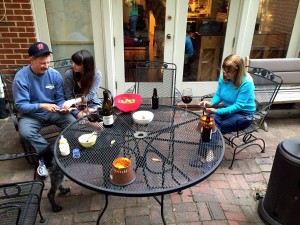 CK had us over for some steak, and we had sugar shack for dessert.  Delicious, and her back patio is awesome.
On Saturday I went rowing, but the wind was up, so I had to settle for a walk and a nice cigar.
We continued to take advantage of the great weather.
The next weekend was the company family picnic.  We had some good food, played some bingo, and had some characters done.
After a few beers, the bounce house looked pretty enticing.
We had a little too much fun…
Then the butt had her first taste of real food (not cereal).  She loved avocado.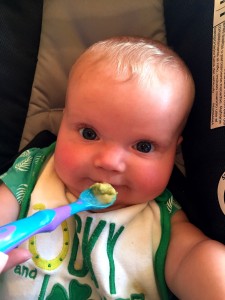 Monday, I had to run over to Urban Angler to get outfitted for Memorial Day weekend.  It turned into a family affair.  We grabbed lunch at Eamonn's Dublin Chipper.
After some amazing fish and chips (with tartar and curry sauce), a Guinness, and a fried mars bar for dessert, FJ and I headed over to Urban Angler.  While we waited for our rods to get set up, we grabbed a beer at Murphy's.  I highly recommend Urban Angler for fly fishing gear.  Alan gave us a lot of help and really good advice.  I wouldn't have caught any fish this weekend without his guidance.  Also, thanks Chris for the advice at the company picnic.
Later in the week I discovered that the VA ABC now has a cool system for showing you which products come from Virginia.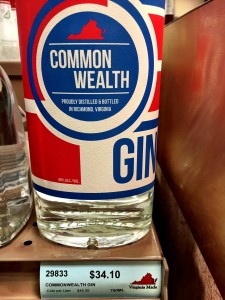 My black cats avoided relegation!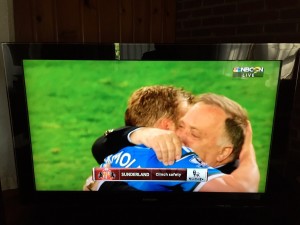 And we had some delicious crabs at the Quarterdeck.
On a cold and rainy Wednesday, HB and I had a nice fortifying Irish meal at Ireland's Four P's.
The superchunk used her high chair for the first time.
We dined al fresco and enjoyed more good weather.
EF did her best Founders Breakfast Stout impression…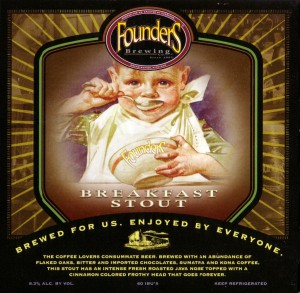 EF handled her shots like a champ.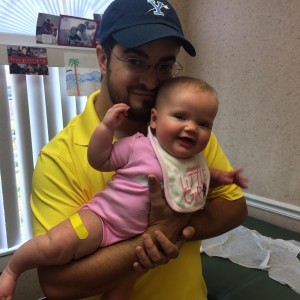 This entry was posted in Embarrassingly effeminate, FCC, Food, The I-talian Woman by rsiv with