Aruba!
Last week the wife and I went to Aruba.  This was just about the last week my wife's doctor cleared her to travel, so we picked Aruba for our last hurrah.  We were looking for somewhere good this time of year (no hurricanes), all-inclusive (the wife isn't as mobile now that shes in the third trimester), with great weather and beaches.  Our travel agent steered us to Aruba.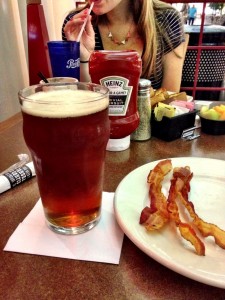 Is there any better breakfast at 4:45 am?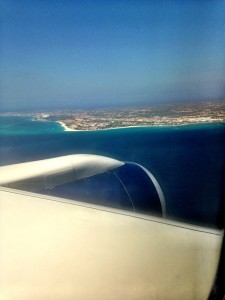 Our first glimpse of Aruba, then below, the view from our room.  We stayed at the Tamarijn in Aruba, an all-inclusive that only has oceanfront rooms.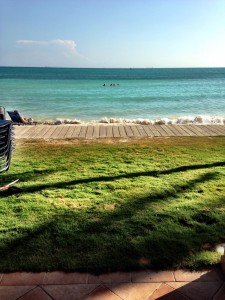 First taste of Balashi, Aruba's local brew.
After some ceviche for lunch, we went over to the Alhambra Casino area (read my gambling post/craps how to here).  We stopped at Fusion, a cigar bar, which had great live music.  I got a Partagas Serie P No. 2.  Unfortunately, it wasn't well humidified, so I had to keep fighting a pretty bad run in the Aruban wind.  The wind is Aruba is constant.  I lost a cigar cherry or two to it, but during the heat of the day, its a lifesaver.
The next morning we enjoyed breakfast by the ocean.
After drinking, eating, swiming, and relaxing all day (which is pretty much all we did all day everyday), we went to the Italian restaurant for dinner.
The pistachio gelato was very good.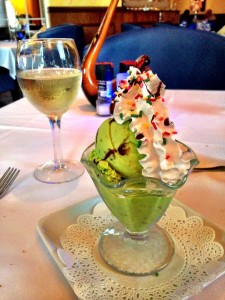 After dinner, I lit an Aruhiba cigar.  Its one of the only domestically made products on the island (Aruba is very small), and since Aruhiba is produced on such a small scale, I was pretty skeptical.  (The two daytime pictures below are just to show the tube.  This is the only Aruhiba I had, so its the only one I can really recommend.)
I was very pleasantly surprised.  The Aruhiba had excellent draw and great flavor.  I'd definitely recommend trying one out.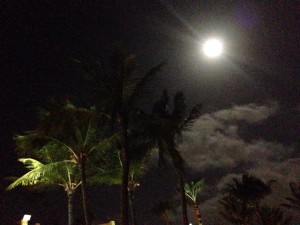 On the second day, we headed into Oranjestad (only about a 10 minute cab ride) to get some provisions.  First, we stopped by the Cigar Emporium, and then headed to Casa Del Habano.  Check out my review of cigar retailers in Aruba here.
After loading up on cigars, we stopped at a The Paddock on the water for some lunch.  Then we headed back.
Back at the room, I picked out a Trinidad Reyes, and we hit the beach.  It might be the perfect beach cigar.  Great flavor, and a nice small size.  Perfect for enjoying a drink or two.
After some more beach time, we went to the Asian restaurant.
After dinner, I had an H Upmann Connoisseur No. 1.  I was a really big fan.  I can't say I've had an H Upmann I haven't enjoyed.
The next day we tried the pizza place for lunch.  It was really good, and the pizza with jalapenos I enjoyed was very spicy.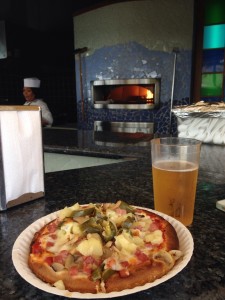 I pride myself on being able to enjoy just about any food, drink, etc.  I like to think I'm pretty open minded, but I've never been able to enjoy Campari.  I used to have a similar distaste for port, but that was eventually overcome.  I decided to give Campari another shot, so I ordered a Negroni.  It wasn't my favorite cocktail of all time, but it was enjoyable.
After a great dinner at the Caribbean restaurant we went back to the casino, and I tried my first Juan López Selección No. 1.  Again, it was a very nice cigar.  So far, all the new cigars I'd tried this trip had been excellent.  After winning some money at the casino, we walked around some, and then headed back to the lobby pool.  A wedding had occurred that day, and the reception after-party was in full effect.  I pressed my luck and ordered a Campari on the rocks, while the DJ (successfully) urged the wedding guests to jump in the pool fully clothed.  We saw a cell phone drown, and it probably wasn't the only casualty.
I realize this probably isn't the most exciting vacation post, as all we did was chill.  Hopefully the beauty of Aruba makes up for the lack of subject matter.  The next day was more of the same, breakfast, lunch at the pizza place, delicious cigars, etc.
I think this was the night our luck finally ran out at the casino.  After a four day streak, we left down for the first time.  The good news is that I had an incredible cigar.  The Trinidad Fundadores was easily one of the best cigars I've ever smoked.  The start was unremarkable, but a delicious mix of cedar, vanilla, floral, and earthy flavors quickly started to build.  I must have remarked to my wife how amazing the cigar was ten times.  We lost at the tables that night, but had a great day.
The fifth day saw our first and only break in the beautiful weather.  As soon as we got to breakfast the sky opened up.  We got a brief window to walk back to the room, and then another downpour started.  I made the most of the weather with a R&J short churchill (the managers' fav at Casa Del Habanos), poured some HC7, and enjoyed some Ian Fleming on the kindle.
I enjoyed the cigar, but it wasn't as good as the others on the trip.  The rain was holding steady, so I went for a swim in the rain, and then the wife and I took an adventurous walk in the rain to the bar.
I tried to take a G&T roady when we left the bar, but it was pretty watered down during the rainy walk home.  Just a few minutes later, the weather lifted, I lit a Trini Reyes, and we hit the beach.
Despite losing the night before, we went back to the casino.  I lit up a Behike 56.  Simply outstanding.  If you haven't tried a Behike, you haven't lived.  I believe this was my third ever, and it really does just blow you away.  I couldn't really say if it was better than the Trinidad Fundadores I enjoyed on the trip, but they were both exceptional among some really good sticks.
Since I might have spent more time that usual at the bars during the storms, I was feeling good, and decided that taking pictures of the Behike in the casino was a good idea.  Fortunately, nobody noticed, and our luck returned.  The wife with her double luck (baby in her belly) rolled her way into just about doubling our money from, at one point, being down to about 30% of that night's bankroll.
I waved goodbye to the casino, thinking how crazy it was that I just had such an amazing cigar, and how great our luck had been.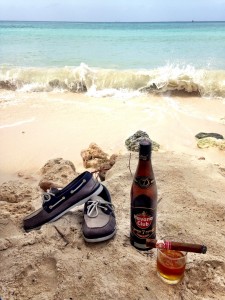 The next morning, I poured some rum on a beautiful day, and lit up an H Upmann Mag 46.  I love the draw on these, and the flavor is superb.
We decided to spend our last night at the Casino.  Despite being up, we had had a lot of fun at the craps table, so figured, why not?  Unfortnately, my cigar luck had run out.  I lit up a Hoyo Epicure Especial, which just had an off flavor the whole time.  It was a slightly sour note that just never left.  Despite the disappointing cigar, the somehow pulled off another win at the tables.
On the day of our flight home, we got up early to get a little more beach time in.
Since it was our last day in Aruba, I lit my last cigar, and tried to finish the last of my rum.
While packing to leave, I discovered a cigar I had missed, so I lit it up.  Notice my buddy in the background?
How about now?
We ordered some pizza for lunch, and saw that our favorite bartender, Edwin, was working.  Without ordering, he made my wife some virgin banana daiquiris (her usual), and poured a balashi for me.  After a couple refills, we told him we were leaving.  He said we'd have to come back, and then fixed me a double Dewar's on the rocks.  This was definitely going to be the most tipsy I'd ever checked into a flight.  After lunch, we got to the airport, and headed home.  It was a fun and relaxing trip.  If you're looking to get away, enjoy some great weather, and just relax, definitely consider Aruba.
This entry was posted in Brown Sauce, Cigars, Travel by rsiv with
Warning: count(): Parameter must be an array or an object that implements Countable in /home/bonviv6/public_html/wp-includes/class-wp-comment-query.php on line 405