Basic Craps, A primer, simulator, and advice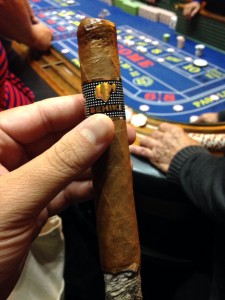 I recently gambled at The Greenbrier, and while in Aruba.  The wife and I had a great time.  I couldn't help but notice that many people hung around the craps table, but didn't know how to play.  I thought I'd share my insight, as its my opinion that Craps is easy to learn, the most fun game at the casino, and has just about the best odds you'll find.  Let's start by watching a quick cheezy video.  Pause it when they get to the come bets, as the rest is really beyond the scope of this post.
As described in the video, in order to play basic craps, and enjoy the social aspect of winning together, all you really need to learn to do is bet the pass line, and then to get good odds, bet the pass line odds.  The casino employees will be happy to help you, but you more you know going into the casino, the better.  Its really better to learn before money is on the line, so once you've watched the above video and done a little research, try out this craps simulator:
http://wizardofodds.com/play/craps/v2/
Once you've played a few times and get the gist of the game, you're ready for the casino.  The best advice I can give you is to start with a table with a low minimum bet.  In Vegas, you can find a $3 table minimum (or perhaps less).  A table with a $5 table minimum is more common.  If you're able to find a $5 table, a $100 bank roll (the total you wager, or the total amount you buy in chips) should be sufficient for an evening of fun (and if you're lucky, a little profit).   This is especially true if you bet twice your pass line bet, on pass line odds.  For example, you bet $5 on the pass line, and then $10 on the odds, for a total bet of $15 per roller.  This is pretty easy to learn, and you can have a really fun time doing so.  Once you learn a little more, play the way that suits you best.
One last thing.  I never put down money I'm uncomfortable losing.  In fact, if I would mind leaving without the money, I don't wager it.  If you expect to leave with nothing, you'll be happy to leave with something.  Think of the money you wager as the cost of having a good time in the casino.  If you can't think this way, gambling probably isn't for you.  Gambling is definitely not a way to earn money.  Its a pastime and recreation, and it has a cost.  Every once in a while, you may make a little profit, but overall, you will likely end up down.  If that doesn't appeal to you, don't gamble.
This entry was posted in Travel by rsiv with
Warning: count(): Parameter must be an array or an object that implements Countable in /home/bonviv6/public_html/wp-includes/class-wp-comment-query.php on line 405