Where to buy cigars (Cuban and Aruban) in Aruba, Oranjestad
I just got back from Aruba (feel free to check my post out here with more info and pictures), and I thought I'd do a quick post for all of you looking to buy cigars in Aruba.  As a quick preface:  There are many fake Cuban cigars everywhere.  Aruba is no different.  Be aware.  I would only recommend buying from the vendors I've outlined below.
My first suggestion will require a quick (15 minute, $10 taxi ride) trip out of Oranjestad.  Aruhiba Cigars is located next to the old Dutch windmill, near The Westin Resort.  Our cab driver was aware of it, and got us there no problem (also, Aruhiba will call a cab for you when you're ready to leave).  Aruhiba grows tobacco on Aruba, and then rolls that tobacco into some very impressive cigars.  Are they as good as top tier Cubans?  Perhaps not, but while in Aruba, you'd be crazy not to try one.  I did, and found it to be a very good cigar.  Aruhiba does tours, but I was not able to go while in Aruba.  Aruhiba has many offerings.  I bought a few, but so far I've only tried the Aruhiba that comes in the blue tube.  I highly recommend it.  Aruhiba also sells Cubans, and they had a limited selection, but the best prices for authentic Cubans that I found while on Aruba.  I bought a great Behike 56 from them.  The store is perfectly humidified and temperature controlled.  I had no problems with any of the sticks I bought at Aruhiba.
In you're in Orangestad, you have two good options.  The first is Casa Del Habano.  If you're unaware, Casa is the official retailer of Habanos S.A.  You will only find well cared for authentic Cuban cigars at Casa, but the price will reflect this.  The manager of the Aruba CDH was very friendly, and help steer me to some new sticks, as well as some old favorites.  All the cigars I bought at CDH Aruba were excellent.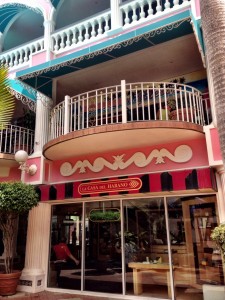 La Casa del Habano
Address: Oranjestad, Aruba
Phone:+297 583 8509
Finally, I also recommend Cigar Emporium.  Cigar Emporium is in the Renaissance Mall, only about a 5 minute walk from Casa Del Habanos.  The selection at Cigar Emporium is similar to CDH, but a few of the sticks I bought did not seem to be properly humidified.  That said, I found a Trinidad Fundadores at Cigar Emporium that was one of the best cigars I've ever smoked.  Since CE and CDH are so close, you'd be crazy not to visit both.  At CE, I'd double check the condition of any cigars you purchase, and if possible, keep them in your own humidor a while before smoking them.
Cigar Emporium
Address: Renaissance Mall, L.G. Smith Blvd 82, Oranjestad, Aruba
Phone:+297 582 5479
Hope you enjoyed my post.  Please check out the rest of my blog, and if you're in Aruba, how about some beach reads?
This entry was posted in Cigars, Travel by rsiv with
Warning: count(): Parameter must be an array or an object that implements Countable in /home/bonviv6/public_html/wp-includes/class-wp-comment-query.php on line 405