Weekend update, Sporting Clays, Spacebar, 9 hours of Nats, Paladar, Anthony's, Superclásico
On Thursday, the wife and I went to an expectant parents class.  Three hours later, I'm a confident expert.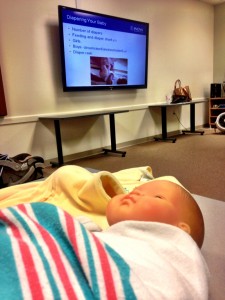 To reward myself for learning so much so quickly, I had some Captain D's.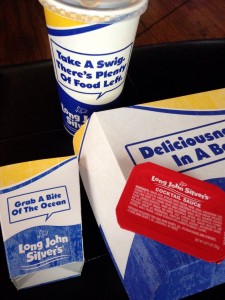 Friday around noon, I drove out to Bull Run Shooting Center to get a quick round a clays in.  As I found out at the dove hunt, I'm a little rusty.  It was misting pretty good, so I went to chick-fil-a to wait out the weather, and enjoy my second round of fast food in as many days.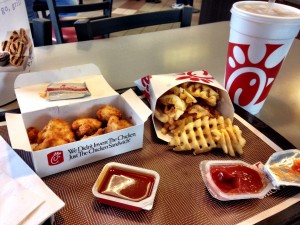 The weather passed, so I hit the course.  I gradually got to where I was shooting pretty well.
Someone must be an incredible archer…
Then my fraternity brother Thom came up from Ptown.  I traded him a NLDS ticket for help putting together baby stuff.  That night, we went to Spacebar, and then enjoyed some Woodford and a smoke.  I commandeered Thom's tender account, and learned that tinder is fun for maybe five minutes, but then becomes monotonous.  Worse still, no one wanted to tell me what they were drinking when Thom matched.  Fortunately, Thom's yacht rock mix consoled me.
The next morning, I made french toast breakfast sandwiches with a side of tots.  After all was said and done, I sprinkled some nutmeg and cinnamon on top, and poured a little maple syrup on them.  Delicious.
Before breakfast, Thom had already put together a rocker.  Afterwards, we put the crib together.  Then we headed to the Nats game.  We got to the park when the gates opened at 3.  I had a ribs, HB had shake shack, and Thom had the DMV.
Closer to game time, you could tell it was a sellout.  I went down to give RP his ticket, and then we headed to our seats.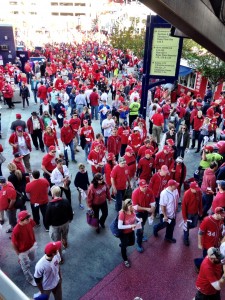 The atmosphere was electric.  Everyone was really into the game.
So into the game that we stayed all 18 innings, until the heartbreaker.  Since we arrived at 3, we'd been there 9 hours.  Pretty amazing considering it was chilly, and the I-talian woman is just about as pregnant as one can be.  She was a trooper.  We gave RP a ride so he wouldn't get raped mugged at gunpoint again (true story).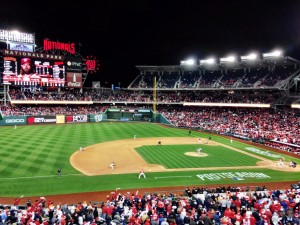 After getting to bed at about 1, we woke up hungry.  We headed to Paladar for exceptional food, and bottomless mimosas (three varieties from which to choose).  The maple pulled pork was a sweet and savory delight.
And what does one do after bottomless mimosas?  Gardening with a Confederate saber.
After some light pruning, we put a pack and play together and installed a dimmer switch (dimmable LEDs are awesome).  Having worked up another appetite, we headed to Anthony's for Linner.
Again Thom, I can't thank you enough.  We got a ton accomplished, and I really appreciate it.  I'll give you a call January-ish about Caps tickets, and the high chair thats currently unassembled in my basement.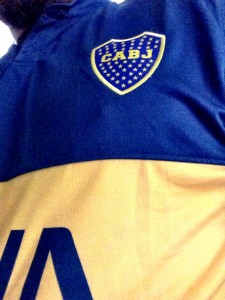 After Thom left, I figured out that I was able to stream the Superclásico live.  I'm a Boca Juniors fan, but I'm never able to watch their games where I live (though it was on GOL TV, but neither I, no my parents have that channel).  Being able to watch the Superclásico, and essentially in HD, was awesome.  Here is a link to the site that streamed it; it looks like they show a lot of Argentine Primera División matches.  It was made all the more epic due to the torrential monsoon the teams played through.  A ball booted at full strength on the ground only made it about 20 yards.  A slide tackler could glide for about 15 yards.  The weather made for a reckless chaotic spectacle.  It was a physical, hard fought game, but there were occasional graceful plays strung together despite the playing conditions.  Boca went up early, but then experienced a terrible call.  Gago amazingly blocked a shot on the goal line with his head and foot, but the ref called a handball, issued a red card, and penalty kick.  Karma intervened, and the penalty went high, but boca had to play the rest of the game down a man.  River came back to tie it up, but all in all it was a very fun match to watch.
What an amazing, productive, and action-packed weekend.  Thanks again Thom!
This entry was posted in Brown Sauce, Cigars, FCC, Food, Sport by rsiv with