Ode to the Hot Tub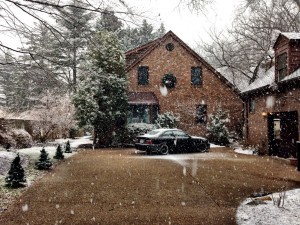 The other day at about noon the snow really started coming down.  I was working from home and had to do a little house sitting anyway, so I decided to take a lunch break.  My truck was the more obvious choice, but I decided to take the M3 out for a snowy spin.
After bringing in the mail, I decided to make sure the hot tub was working properly.
I was reminded of the proverb: without pain, there is no pleasure.  Having a newborn can be a tad stressful at times.  I think this was just about the most relaxed I've ever been.  My favorite cigar, my favorite Scotch, a steaming hot tub, some jazz, and the gentle fall of the snow.  I even had a cardinal come keep me company, but to be honest, it was some much appreciated alone time.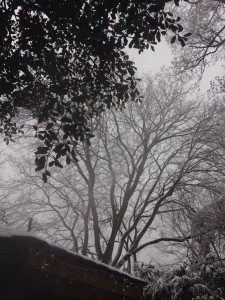 I enjoyed a little tree overhang that sheltered me from the snow, and a magical and ethereal view that the above picture doesn't do justice.  I decided the sauna needed a quick check as well.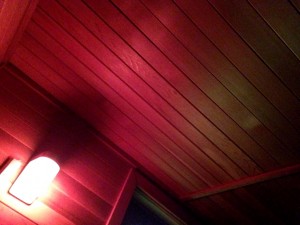 HB took EF for a walk in the winter wonderland.  EF was full of wonderment for about 20 minutes, and then enjoyed a nice brisk nap.
After the walk, HB made some homemade hot coco while EF enjoyed some leche de madre.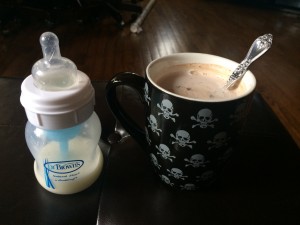 That weekend, I thought HB might enjoy some hot tub time as well.  I picked myself out another cigar.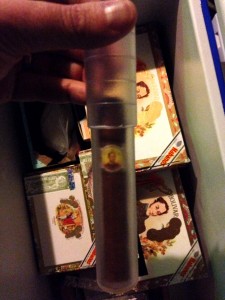 Then while HB was soaking, I popped some bubbly and made up some canapés as a quelle surprise.
I've got to say, this was a pretty damn good time.  The salty fattiness of the caviar, crème fraîche, and blinis was cut perfectly by the dry acidity of the bubbly.  The cigar put my olfactories into overdrive and took me back to Havanna.  The jazz didn't hurt either.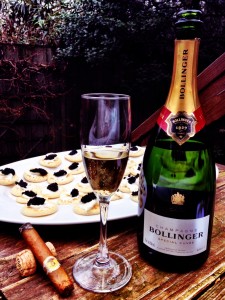 Let me wax a little poetic about the champs.  This bottle was an impulse buy for new years.  Fortunately, we only managed a bottle a person on NYE, and this one was spared the saber.  I was aware that Bollinger is a favorite of Bond, and totalwine said it had a high wine spectator score, but that was about it.  I was very impressed by this bottle.  It was rich and complex with velvety bubbles, and paired perfectly with our accompaniments.  Its a very handsome bottle as well.  Dark forest green glass, gold accents, and a beautiful pearlescent label that screams that one pair it with caviar.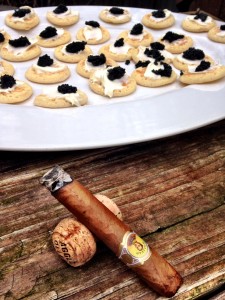 EF took a pretty long nap, and HB and I got a lot more hot tub time than anticipated (Thanks EF).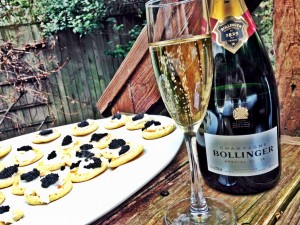 After a long afternoon of hot tubbing, we decided to unwind in front of the fire with a little brown (Thanks again to Susie, a true aficionado, for the bourbon – HB loves it).  Then we put on some Strikeback and enjoyed some sex for no reason…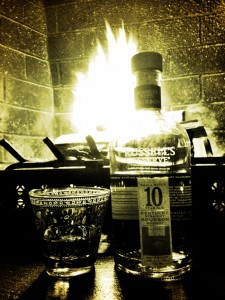 This entry was posted in Brown Sauce, Cigars, Embarrassingly effeminate, FCC, Jazz, Music by rsiv with
Warning: count(): Parameter must be an array or an object that implements Countable in /home/bonviv6/public_html/wp-includes/class-wp-comment-query.php on line 405