Catchup
Over the weekend, HB and I watched the black cats lose over a nice brunch at Public House No.7.  Then we got an ice storm.  Getting EF to LeBeef and FJ's was treacherous, but we made it, thanks to their innovative walkway.
After FJ was done with his soak, HB and I had a quick breakfast at OHOP.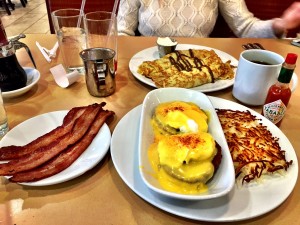 Then I took advantage of a slow work day without EF, and put together a jumperoo, and went for a reckless two mile run.  It wasn't ideal conditions, but I needed to get my wind up for the hunt this weekend.
I also made a shotgun patterning board, as explained here.
EF isn't quite tall enough for it yet, but she loved the jumperoo.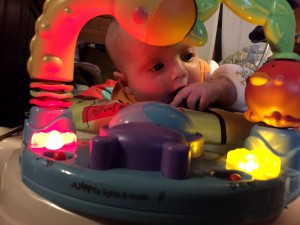 Later in the week, I made some kimchi fried rice with Ryry's homemade kimchi.
I also thought I'd mention how much I'm digging my new cell phone case from Wm Lamb.  I loved my old one so much, I just got the new version.
I'm headed to West By God tomorrow (weather dependent) for a hunting trip with the guys.  I'll post about it when I get back, but in the meantime, follow me on twitter: @bonvivantva
This entry was posted in Uncategorized by rsiv with